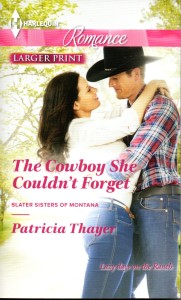 The Cowboy She Couldn't Forget
August 2013, #1
AMAZON (Kindle), BARNES AND NOBLE (Nook), ITUNES (iPad), HARLEQUIN
One Stolen kiss with a cowboy
When Ana Slater's father is taken ill, she knows she can't look after the Lazy S Ranch alone.  There is one man who can help.  The cowboy she had found it impossible to forget—Vance Rivers. 
With the words "Works hard and hands off my daughters!" etched into his memory.  Vance knew from the very beginning that Ana was strictly off-limits—no matter what!  All he could do was ensure he was the best cowboy in Montana.
But now, with Ana back on the ranch, the rules are set to change.  And finally their chance at happiness might be just around the corner…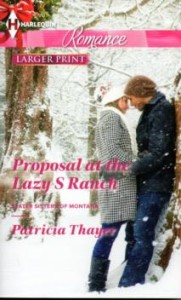 PROPOSAL AT LAZY S RANCH
November 2013, #2
Purchase available on Kindle and iPad
 Return to ranching country with bestselling author Patricia Thayer—don't miss the second in her      enthralling Slater Sisters series!
Driving through the Lazy S Ranch after ten years away, the first person Josie Slater sees is the  gorgeous-as-ever Garrett Temple! The memories of her first love and her first broken heart come flooding back.
She doesn't have time for old attractions, as the Lazy S needs her help! But when a snowstorm blows in, Josie and Garrett are left stranded together. With nowhere to run, the feeling that they still belong together is undeniable….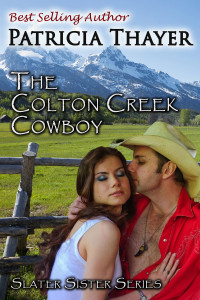 COLTON CREEK COWBOY
December 2013, #3
Purchase: Kindle, iTunes, Barnes and Noble, KoBo Books, ARe, and Smashwords
Add to your bookshelves on Goodreads!
 On the run… and right into a cowboy's arms.
 When being stalked by an ex-boyfriend, Tori Slater leaves the Montana family ranch to make a new life at Great-Great-Grandmother Rachel's homestead, Colton Creek Ranch in Wyoming. Suddenly there a brand new complication when the caretaker's grandson becomes her new business partner and soon her heart gets involved in the partnership.
 Ex-cop, Logan McNeely, has his own dreams of a solitary life, raising free-range cattle on his neighboring ranch. Half his dream ends with his grandfather's recent death. Then in walks Tori to add problems he didn't need. He can't seem to ignore her, and when danger comes to the homestead, more than his cop instincts kick in.
 To save her, he has to save himself first before they can have a future together.